BCS National Championship Game
Many call the BCS National Championship Game the absolute highlight of the college football bowl (post)season and THE game of the BCS bowl games series. The intention of the last game of the Bowl Championship Series (BCS) is to determine the National champion of the NCAA Division I Football Bowl Subdivision. The very first time the BCS Championship game was played was in 1998 at the conclusion of the 'regular' college football season.

In case you wonder, what are the names of the BCS bowls: Back in the late 90's the game was initially rotated among the four participating (
BCS Rose Bowl
,
Orange Bowl
,
Fiesta Bowl
, and the
Sugar Bowl
) bowl games. As time went by, beginning with the 2006 season, the BCS National Championship Game became a separate event played in the week following New Year's Day, which for the 2011/2012 season will be on January 9, 2012 in the Mercedes-Benz Superdome in New Orleans, LA. Alabama Crimson Tide and the LSU Tigers are matched-up to win the trophy this time.
The stadium where the championship is held rotates amongst the sites of the BCS bowl. The locations for the next few years are:
Sun Life Stadium in Miami Gardens, Florida in 2013
Rose Bowl in Pasadena, California in 2014
2012 BCS National Championship Game
The 2012 BCS Championship Game game day and time are January 9, 2012 at 8.30pm EST (7.30pm local time in New Orleans), matching up LSU vs Alabama. ESPN and ESPN HD televise the game nationally, with a simulcast on
Xbox LIVE
, ESPN3.com and ESPN 3D (
Save on ESPN The Magazine at BlueDolphin.com
).
The 2012 (for the 2011 Bowl Game Season) sponsor is Allstate.
---
At Allstate.com, safe drivers pay a whole lot less. Stay accident-free, and you could save 45% or more on your car insurance. Quote Now!
---
Depending on who the title sponsor of that year's bowl host location is (Allstate's the sponsor for the 2012
Sugar Bowl
), will also be the title sponsor for the championship game.
Here is a list of some BCS Championship Sponsors:
---
Buy your
BCS Championship Tickets
now and be one of the enthusiastic fans at the Rose Bowl in Pasadena, CA.
---
Here is some BCS Championship History based on season:
2011/2012: LSU vs. Alabama
2010/2011: Oregon 19 vs. Auburn 22
2009/2010: Alabama 37 vs. Texas 21
2008/2009: Florida 24 vs. Oklahoma 14
2007/2008: LSU 38 vs. Ohio State 24
2006/2007: Florida 41 vs. Ohio State 14
2005/2006: Texas 41 vs. USC 38
2004/2005: USC 55 vs. Oklahoma 19
2003/2004: LSU 21 vs. Oklahoma 14
2002/2003: Ohio State 31 vs. Miami (FL) 24
2001/2002: Miami (FL) 37 vs. Nebraska 14
2000/2001: Oklahoma 13 vs. Florida State 2
1999/2000: Florida State 46 vs. Virginia Tech 29
1998/1999: Tennessee 23 vs. Florida State 16
---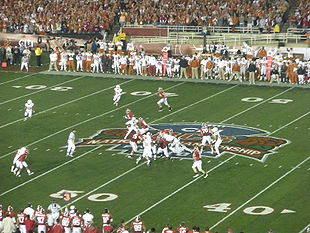 ---
Go back to top of this BCS National Championship Game page

Home of All-About-Bowl-Games.com


---