Sheraton Hawaii Bowl
The Sheraton Hawaii Bowl is usually played on Christmas Eve, December 24th at 2pm local time (8pm EST), in the Aloha Stadium in Honolulu and televised on ESPN. That is consistent with it always being played either on Christmas Eve or Christmas Day. Started in 2002 the match-up features a team from the Conference-USA or Pac-10 and a team from the WAC (Western Athletic Conference).
The Bowl succeeds the Poi Bowl (played from 1936-1939), the Pineapple Bowl (1940-1941, 1947-1952), the Aloha Bowl (1982-2000) and the Oahu Bowl (1998-2000) as bowl games played in Hawaiʻi.



2011 Sheraton Hawaii Bowl
Southern Miss enjoyed a great win in the 2011 Bowl in front of 32,630 spectators. The game was played on Christmas Eve, 12/24/2011 at 3pm local time (8pm EST) on the Hawaiian Airlines Field at Aloha Stadium, matching-up Nevada Wolf Pack (7-6, 5-2 WAC) and the Southern Miss Golden Eagles (12-2, 6-2 C-USA). Although a defensive struggle for both teams and a 17-17 score in the 3rd quarter, the Golden Eagles were able to pull away with one more touchdown with 5:48min left in the game. They could hold on to their lead in an overall record low games with 'only' 41 combined points. This win also gave Southern Miss their 1st 12-win season ever.
---
Sheraton Hawaii Bowl Aloha Stadium Halftime Show 2011
---
2010 Sheraton Hawaii Bowl
The Tulsa Golden Hurricanes enjoyed a blowout win of the 2010 Bowl. The game was played on Christmas Eve, 12/24/2010 at 3pm local time (8pm EST), matching-up the Hawai'i Warriors from the University of Hawai'i at Mānoa and the Tulsa Golden Hurricanes, representing the University of Tulsa. Tulsa looked like the better team from the start. Tulsa's defense looked scary at times. Even when Hawaii was driving down the field, the way Tulsa swarmed the ball and nearly picked off so many passes was impressive -- of course the 5 interceptions were more impressive.
The 2010 Hawai'i Bowl featured
Nohelani Cypriano
during the halftime show. Cypriano is an award winning Hawaiian vocalist with Na Hoku Hanohano Awards for "Best Female Vocalist," and "Contemporary Album of the Year." Besides the Sheraton Hotels on Hawaii, the
Moana Surfrider, A Westin Resort & Spa
is another one of the host hotels for the bowl.
---
2009 Sheraton Hawaii Bowl
The 2009 Hawaii Sheraton Bowl was played on December 22nd, 2009 with SMU (7-5, making its 11th bowl appearance and first since 1984 when it played in the Aloha Bowl in Honolulu) winning over the Nevada Wolf Pack 45 - 10. The Mustangs tied for first place with Houston in the Conference-USA West Division with identical 6-2 league records. SMU, which finished 1-11 last season, is coached by former Hawaii coach June Jones, who is in his 2nd year at the Hilltop.
---
---
Assuming the University of Hawaii is eligible for bowl game play, the school is guaranteed a spot. Before the event took on Sheraton Hotels as its title sponsor, this post-season college football bowl game was also called the Aloha Bowl and the Oahu Bowl. Those games were played in its place (1982-2000). The previous main sponsor in 2002 was ConAgra. They were known for giving away thousands of free hot dogs on game day.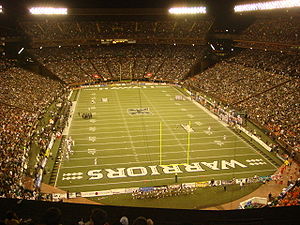 The Aloha Stadium in Honolulu can hold 50,000 spectators and was opened back in 1975. Buy
Bowl Tickets
now and be one of the enthusiastic fans at Aloha Stadium.
Previous Hawaii Bowl games included these line-ups:
2011: Nevada 17 - Southern Miss 24
2010: Tulsa 62 - Hawaii 35
2009: SMU 45 - Nevada 10
2008: Notre Dame 49 - Hawaii 21
2007: East Carolina 41 - Boise State 38
2006: Hawaii 41 - Arizona State 24
2005: Nevada 49 - Central Florida 48 (OT)
2004: Hawaii 59 - UAB 40
2003: Hawaii 54 - Houston 48 (3 OT)
2002: Tulane 36 - Hawaii 28
Bowl Sponsors and Logos:
Sheraton Hotels and Resorts Hawaii (2003-present)




ConAgra Foods (2002)


---
Share your favorite
College Football Bowl Game experience

Write About It Here!
Did your team make it to the bowl games? Did they even win? Share your thoughts and experience! Or just simply ask any bowl related question you have. That can be a question about the closest hotel to the stadium, the best restaurant for before/after the game, or anything else you would like to share or ask.


Here are some topics people always like to hear/read about:



What do you like/don't like about this bowl?


Which bowl do you think is the best?


What do fans have to look out for (bad parking, nice view, fireworks on special nights, secret giveaways, loose stairs on row 45, etc)?


Where do you find the best food, the coldest beer, etc. (in or around the stadium)?


All Bowl Games as seen and experienced by others
Click on the links below to see comments and thoughts from other fans about how they experienced their first (or last - or any in-between) college football bowl game. They are all written by other visitors to this page.

Which Sheraton Hotels are host hotels for the Sheraton Hawaii Bowl 2010?

Question: I am looking at Sheraton Hotels that will be host hotels for the 2010 Sheraton Hawaii Bowl. Where can I find that information?? Answer: …
Joe's 2010 Sheraton Hawaii Bowl Review Not rated yet
Looking at each team's performance over the season, the two teams in this year's Hawaii Bowl looked pretty close. Evaluating recent performance a bit …
---
Go back to top of this Hawaii Bowl page

Home of All-About-Bowl-Games.com


---