Poinsettia Bowl
The Poinsettia Bowl is being played close to Christmas (usually around the 23rd of December) and matches-up a team from the WAC and the MWC (often the #2).
As of November 2009, the San Diego County Credit Union has extended its title sponsorship of this college football bowl game through 2010, with options for 2011 and 2012. Mentionable is also, that the bowl donates $1 for every ticket sold to the San Diego Chapter of the Make-A-Wish Foundation.


2011 Poinsettia Bowl
The 2011 Bowl game was played on 12/21/2010 at 5pm local time (8pm EST), matching-up TCU Horned Frogs and the Louisiana Tech Bulldogs. The game was televised on ESPN. TCU defeated Louisiana 31 to 24 and will be heading to the Big 12 Conference in 2012. After a fourth-quarter deficit (the 3rd time in the 2011 season), TCU was able to call this Bowl game a victory. This TCU win was also the 8th straight victory for a Mountain West Conference champion. Louisiana came into the Bowl with a 7-game winning streak and almost won their 8th game, but it turned out differently.
---
2010 Poinsettia Bowl
The 2010 Bowl game was played on 12/23/2010 at 5pm local time (8pm EST), matching-up the San Diego State Aztecs, representing San Diego State University with the Navy Midshipmen, representing the United States Naval Academy during the 2010 NCAA Division I FBS football season. The game was televised on ESPN. The Aztecs were able to capitalize on a slow-starting Midshipmen team resulting in a 35-14 loss for Navy. After 1.5 million gallons of rainwater was purged from Qualcomm Stadium, the Navy defense was up to its neck with the potent and balanced offensive attack of SDSU. The Aztecs' freshman running back Ronnie Hillman scored four total touchdowns and earned 228 yards on the ground on 28 carries. Hillman's performance broke the previous Bowl mark of 129 yards by Navy's Adam Ballard in 2005 and etched SDSU's first bowl victory since 1969.
Festivities for the 2010 game kick-off in downtown San Diego's historic Gaslamp Quarter started at 6 p.m., Tuesday, December 21st with the Poinsettia Bowl Gaslamp March. The host hotels are the
Hilton San Diego Bayfront
at 1 Park Boulevard, San Diego, CA 92101, Phone: (619) 564-3333 and the
Manchester Grand Hyatt
at One Market Place, San Diego, CA 92101, Phone: (619) 232-1234. And last, but not least, the media hospitality room will be located at
The Omni San Diego Hotel
.
---
2009 Poinsettia Bowl
The 2009 Poinsettia Bowl on December 22nd, 2009 featured the Utah Utes and the California Golden Bears. Still pretty new on the list of college bowl games, since its inception the bowl has seen Navy (2005), TCU (2006 and 2008) and Utah (2007) as winners. Utah won that game 37 to 27.
---
---
The 2011 and 2012 games will feature MWC teams going up against top schools from the WAC (Western Athletic Conference). A WAC school has played in the bowl game once. And then in 2013 a bowl-eligible Army team will make their first appearance in the Bowl. The last time the Black Knights played in a post-season game was in 1996 in the
Independence Bowl
. They lost to the Auburn Tigers 32-29. Should Navy or Army not be bowl eligible in their respective years, the bowl game will receive a team from the WAC. To become bowl eligible a team must earn six wins. And Navy is close to getting there.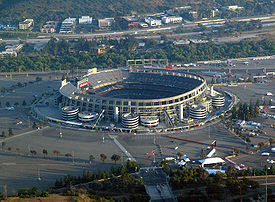 Qualcomm Stadium has a capacity of 70,561 and is located in the heart of Mission Valley, just minutes from downtown San Diego. Besides this event, the Stadium also hosts the San Diego Charger and SDSU Aztec football, the
Holiday Bowl
, Street Scene and more.
Buy
Poinsettia Bowl tickets
now and be one of those enthusiastic fans at Qualcomm Stadium. This is a game that is a recent addition to the sports tickets scene, but given its location and venue, the bowl will no doubt soon be joining other games as a prime reward for two teams who've enjoyed great seasons. Not to mention, you can use your college bowl tickets to see a great game and then enjoy all that "America's Finest City" has to offer.
Previous games included these line-ups:
2011: TCU 31 - Louisiana Tech 24
2010: SDSU Aztecs 35 - Navy 14
2009: Utah 37 - California 27
2008: TCU 17 - Boise State 16
2007: Utah 35 - Navy 32
2006: TCU 37 - Northern Illinois 7
2005: Navy 51 - Colorado State 30
---
Bowl Sponsors and Logos:
San Diego County Credit Union (2005-present)


---
Share your favorite
College Football Bowl Game experience

Write About It Here!
Did your team make it to the bowl games? Did they even win? Share your thoughts and experience! Or just simply ask any bowl related question you have. That can be a question about the closest hotel to the stadium, the best restaurant for before/after the game, or anything else you would like to share or ask.


Here are some topics people always like to hear/read about:



What do you like/don't like about this bowl?


Which bowl do you think is the best?


What do fans have to look out for (bad parking, nice view, fireworks on special nights, secret giveaways, loose stairs on row 45, etc)?


Where do you find the best food, the coldest beer, etc. (in or around the stadium)?


---
Go back to top of this Poinsettia Bowl page

Home of All-About-Bowl-Games.com


---